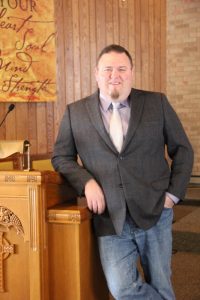 Pastor Jake King was born and raised in central Minnesota and is a graduate of Cambridge-Isanti High School.
In 2008 Jake accepted the call to youth ministry at Braham Evangelical Covenant Church (BCC) and continues to serve in  youth ministry to this day.
He holds a ministry license through the Evangelical Covenant Church, and is continuing studies at Oak Hills Christian College.
In the Fall of 2021 after 13 years of youth ministry at BCC, Jake accepted the role of interim pastor at BCC, and was officially welcomed as Senior Pastor in June of 2022.

Jake's desire is to see children, youth and adults reached with the Great News of Jesus Christ!
Jake volunteers at many local events and serves on various  boards/committees in Braham. He also enjoys being out in the community and will be found most mornings at a local coffee shop.
Jake and his wife Sara both attended Oxlip Evangelical Free Church in their youth, then dated and were then married there. 

Sara is a native of Princeton, Minnesota and a graduate of Crown College in St. Bonifacius with a degree in accounting. She is employed at Minnco Credit Union in Cambridge as an accountant,  and assists with some finances for the church.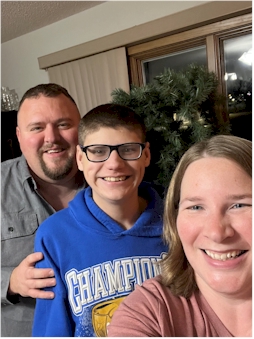 Jake and Sara share the responsibilities of homeschooling their son, Noah, who is active in some of the public school extracurricular activities and in the community.
In their "free time" they enjoy cooking and baking inside and out of their home, playing music at church and in the community, gardening, attending sporting events and concerts, hunting, visiting with family and friends and just hanging out on their deck or patio.
CHAIRMAN – Paul Sanborn
VICE-CHAIRMAN – Jim Bremer
EDUCATION AND DISCIPLESHIP –
MISSIONS AND OUTREACH – Dave Kostaska
WORSHIP AND SPIRITUAL LIFE – Ted Beckrich
FELLOWSHIP AND COMMUNITY ACTION –
Nicole Rodenborg, Pat Coleman
FACILITIES AND MAINTENANCE – Henry Rodenborg
TREASURER – Yvonne DeVito
FINANCIAL SECRETARY – LeeAnne Sanborn
COVENANT WOMEN – Carlyn Johnson
SECRETARY – Connie Gelle